I usually love the work of classic Superman writer Elliot S! Maggin, but in this instance, I think he screwed the pooch.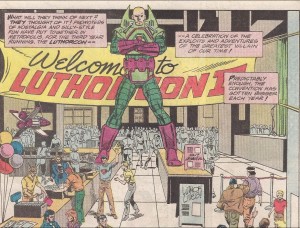 The folks at Horn Book have dipped into Game and have this to say (spoilers for I Hunt Killers!):
In I Hunt Killers (rev. 5/12), Jasper Dent helped the police catch the Impressionist, a small-town copycat killer imitating the murders of notorious serial killer Billy Dent—Jazz's "Dear Old Dad." Now an NYPD homicide detective requests Jazz's unique expertise for a new case. The Hat-Dog Killer's MO is so bizarre that the detectives are struggling to piece together a profile, and the body count is already in double digits. Jazz travels to the big city to review the evidence; unbeknownst to him, girlfriend Connie follows—and soon the two are sucked into the Hat-Dog Killer's "game." Jazz suspects that newly on-the-lam Billy may be connected to the murders, but how? All the while, Jazz fights to unlearn the macabre life lessons imparted by his father. Plenty of gory suspense and plot twists will satisfy thriller fans, but, as before, Jazz's determination to "be human" (aided by Connie and charmingly annoying sidekick Howie) is just as compelling as the murder mystery. With many secrets about the Dent family and Jazz's own nature remaining to be revealed in the next book, readers won't want to wait.
Thanks, Horn Book!